CLASSIC DRUM SALE !!
Photo Gallery
CLASSIC DRUM SALE !!
MADE IN U.S.A. AMERICAN CLASSICS !!
AMERICAS 350 YEAR OLD ZYLDJIAN CYMBAL COMPANY
IS THE OLDEST U.S.A. MANUFACTURING OF ANYTHING.
LUDWIG DRUMS ARE RELATED TO STIENWAY PIANOS AND LUDWIG PIANOS.
GRETSCH, SLINGERLAND, LEEDY, D.W. CAMCO, ROGERS, NOBLE COOLEY, AND MOORE AND MORE !!
EMAIL FOR A CURRENT LIST: ComicCD@yahoo.com
DRUM LESSONS
BLACK BEAUTY, BRASS SHELL, CUSTOM ENGRAVING, CUSTOM BASS DRUM HEADS WITH LOGO ART OR PHOTO,
CUSTOM ART WORK HOT-RODDING OF DRUMS AND ALL MUSICAL INSTRUMENTS.
VISTALIGHT, CUSTOM DRUM LIGHTS, LIGHTED STICKS, MALLETS, BRUSHES, DRUM STICKS.
Ludwig 100th Anniversary
Snare Drums of a Century Collection
The Ludwig Legacy was built on a foundation of legendary snare drums. Now, in our 100th year, Ludwig pays homage to the drums that made us great with the Snare Drums of a Century Collection. The Triumphal, the Black Beauty, the Supraphonic; all represented in grand tribute models that will be limited to 100 models each and available at select Ludwig Platinum dealers worldwide. These are not just snare drums to be appreciated for tone and function, they are truly a piece of history.
Click here to view a list of Ludwig Platinum Dealers
The 1928 Gold Triumphal Reissue

(LGT100ANV)
Hand-Engraved 24k Gold Plated Brass Shell

The crown jewel of the Ludwig collection, the Triumphal was only produced between 1926 and 1928. Every element of the 100th Anniversary reissue has been hand-crafted in the Italian Alps to the exact specifications of the original. Production is limited to 100 pieces, each engraved with a year in Ludwig's production history.

Please visit www.goldtriumphal.com for more information about this limited edition snare drum.

The 100th Anniversary Black Beauty

(LB2009BT)
Hand-engraved Nickel-plated brass w/ brass hardware

Often imitated but never duplicated, Ludwig set the standard for all others to follow with the Black Beauty. The 100th Anniversary edition, hand-engraved by master craftsman John Aldridge, is more ornately appointed than all others before it, and features the mark of three generations of Ludwig history. "Chief" Keystone badge.

The 100th Anniversary Black Magic

(LW6514ANV)
Laser-engraved Nickel-plated Brass Shell

A tribute workhorse for the performing musician, the 100th Anniversary Black Magic comes in 5x14" and 6.5x14" models and features a beautifully scrolled shell, precision etched into the Black Nickel plating with a computer-controlled laser.
*****
* Civil War Snare Drum Sale *
* Noble & Cooley *

Civil War Reissue snare.
In 1854, in the rural town of Granville Massachusetts, Silas Noble and James P Cooley set about the business of making toy drums. The company flourished and in a short time they were making thousands of drums a year. The call to war in 1861 shifted the production from toy drums to military snare and bass drums.

One hundred and fifty seven years later, the descendants of James Cooley are still in the business of making drums at Noble & Cooley Company in Granville. From millions of toy drums to production of high end steam-bent snare drums and custom drumsets, this little company has continued to make drums since 1854.

A few years ago the company decided to turn some of its factory space into a museum with a focus on "Yankee Ingenuity" and industrialism in rural New England. While gathering and assembling artifacts, they were approached by a Civil War memorabilia broker who was in possession of a drum made by the company and picked up off the battlefield at Gettysburg. The museum reached out to the community for support and was able to bring the drum home to Granville where it is prominently displayed along with its provenance.

This spurred interest in the role Noble & Cooley and the town of Granville played in the war efforts and also caused the owners and family to dig further into the archives. Jigs and tooling were found. A local logger was called in to identify the wood on the returned drum. Family diaries were read and re-read. And the decision was made that six generations later, the Noble & Cooley Drum Company would once again make a contract Civil War Drum to commemorate the Sesquicentennial in 2011.

The "contract drum" was the standard issue drum ordered for the Union Army. It was a single ply, steam-bent shell of either tulip wood or ash with oak hoops and calfskin heads. The reissue drum is 12" deep and 16" in diameter. The shell is of tulip wood from trees cut within a few miles of the factory. The wood is steam bent using the same steam chest and methods used 150 years ago.

Noble & Cooley plans to produce a limited number of this commemorative drum from 2011-2014. The drums will be sequentially numbered and will be shipped with a "certificate of authenticity" which will include a brief history of the company and the specifics of the drum.
Email: ComicCD@yahoo.com
Original 1800's Civil War Antique (Not for Sale.) Modern Noble & Cooley Replica is For Sale.
*****
Sample Photo 1
SLINGERLAND MARCHING DRUM SALE
NOBLE COOLEY MARCHING DRUM SALE
THEY MADE THE CIVIL WAR UNION ARMY MARCHING DRUM
SPIRIT OF 1776 AMERICAN REVOLUTIONARY WAR MARCHING DRUM
FROM BETSY ROSS RELATION. A REAL SON-UV-A-1776.
EMAIL: ComicCD@yahoo.com
TOWER OF POWER DRUMMER DAVID GARIBALDI
SNAIR DRUM FROM THE 70'S FOR SALE
CLASSIC DRUM SALE
LUDWIG SUPRAPHONICS CHROME DRUM FROM THE 1960'S
WITH BRASS KEYSTONE CLASSIC BADGE.
THE GARIBALDI FAMILY MUSIC STORE SOLD THIS IN THE 1970'S
TO MY DRUM TEACHER CHRISTIAN PURFIELD
STUDENT OF CSM.ORG FRED BERRY CONDUCTOR & TRUMPET.
PLUS MIKE CURRATO DRUMS AT GTI GELB TEACHING INSTITUTE.
GARIBALDI FUNKED THE HECK OUT OF THIS GREATEST AND MOST POPULAR
SNAIR DRUM IN MUSIC HISTORY!!
THE SAME MODEL AS BEATLES RINGO STAR, JIMI HENDRIX EXPERIENCE MITCH MITCHELL
AND FUNKY TRAINLOADS OF OTHERS HAVE PLAYED FOR OVER HALF A CENTURY.
IT IS FUNK JAZZ ROCK RHYTHM AND BLUES BATTLE SCARRED FOR PEACE LOVE SAKES.
LIKE A HENDRIX BURNT STRATOCASTER GUITAR.
BUT IT IS THE ONE AND ONLY FOUNDING FATHER OF TOWER OF POWER FUNK
DRUMMER CLASSIC 60'S 70'S SNAIR DRUM. THE DRUM HEARD ON NUMEROUS CLASSICS.
NO FUNK DRUM FAN COLLECTION COMPLETE WITHOUT IT.
EMAIL: ComicCD@yahoo.com
http://www.moderndrummer.com/site/wp-content/uploads/2009/06/Steve_Birkett400-198x150.jpg
http://www.vicfirth.com/artists/garibaldi/garibaldi3.jpg
http://www.gigging-drum-charts.com/images/Garibaldi-Sabian-Back.jpg
http://en.wikipedia.org/wiki/Tower_Of_Power

Tower of Power
Tower of Power
(or
TOP
for short) is an
American
R&B
-based
horn section
and band, originating in
Oakland, California
, that has been performing for over 43 years.
[

1

]
They are best known for their funky soul sound highlighted by a powerful horn section. There have been several lead vocalists, the most famous being
Lenny Williams
, who fronted the band between early 1973 and late 1974, the period of their greatest commercial success. Their biggest hits include "You're Still A Young Man", "So Very Hard To Go", "What Is Hip?", and "Don't Change Horses (In the Middle of a Stream)."
History
http://en.wikipedia.org/wiki/Tower_of_Power#David_Garibaldi
David Garibaldi
MUSICAL INSTRUMENT CUSTOM HOT-RODDING ART AND ELECTRONICS AVAILABLE
STUDENT OF THE JOHN CIPOLLINA ELECTRIC GUITARSLINGER SAN FRANCISCO SOUND PSYCHEDELIC ART NOUVEAU FANTASY ETC.
AND LIKE KIETH MOON KIETH EMERSON ELP EMERSON LAKE AND PALMER CUSTOM DRUMS ART WORK.

*****

Sample Photo 2
MUSICAL INSTRUMENT CUSTOM HOT-RODDING ART AND ELECTRONICS AVAILABLE
STUDENT OF THE JOHN CIPOLLINA ELECTRIC GUITARSLINGER SAN FRANCISCO SOUND PSYCHEDELIC ART NOUVEAU FANTASY ETC.
AND LIKE KIETH MOON KIETH EMERSON ELP EMERSON LAKE AND PALMER CUSTOM DRUMS ART WORK.
* * AMERICA & THE WORLDS GREATEST DRUMMER SINCE THE 1940'S !!! * *
* * THE INVENTOR OF THE DOUBLE BASS DRUM MONSTER DRUM KIT !!! * *
© Francine Bellson
http://cdbaby.com/cd/louiebellson
ASCAP (American Society of Composers, Authors and Publishers)
inducted Louie Bellson, Terry Gibbs and Dave Frishberg as Living Legends.
ASCAP Jazz Wall of Fame ceremony, Jazz at the Lincoln Center, New York City.
The DWARF JAZZ PURPLE GROTTO !!!
Al "Jazzbeaux" Collins The Red Dwarf in the Purple Grotto
& Chick Webb The Little Black Dwarf Hunchback of Swing Jazz Big Band
www.bayarearadio.org/audio/jazzbeaux www.thepurplegrotto.com
www.drummerworld.com/drummers/Chick_Webb.html
** www.BuddyRich.com ** Drum Battle Jerry Lewis Buddy vs. Animal
 



Max Roach vs Shelly Manne. His Hollywood Jazz Nightclub was named Shelley Mannes' Hole. Ha!

http://www.drummerworld.com/drummers/Shelly_Manne1.html

www.ElvinJones.com
www.drummerworld.com/drummers/Elvin_Jones.html


http://www.drummerworld.com/drummers/Barriemore_Barlow.html
www.JimiHendrix.com Mitch Mitchell of the Jimi Hendrix Experience with British Premier drumset in the Buddy Rich configuration,
and Gretsch drumset in the Louie Bellson Double Bass drumset.
www.hardmilesmusic.com/index.shtml
BUDDY MILESROGERS DRUMSET CUSTOM PSYCHEDELIC AMERICAN FLAG ART HOT-ROD !!
THE ELECTRIC FLAG BAND WITH NICK GRAVENITES MICHAEL BLOOMFIELD TOM NAUGHTLER AND OTHERS
SOLO ALBUMS
JIMI HENDRIX BAND OF GYPSIES
SANTANA AND OTHERS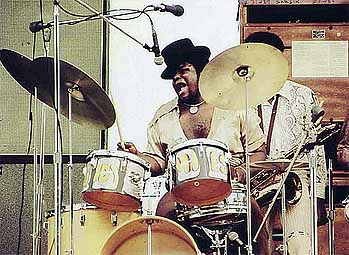 *****
Sample Photo 3
*****
Epic Centurian Snare Drums
For the Snare Drum Conniosseur

Further pushing the Epic shell hybrid concept, the Centurion line consists of three snare models; each with a different exotic wood shell and unique tonal distinction. Coming standard with tube-style lugs and 2.3mm hoops, Epic Centurion Snares are a unique destination for the discerning collector.

American Walnut over Maple

(LCEX6514TXWA)
6.5"x14"

This drum was made for the studio environment. Harnessing a deeply resonant tonal quality, the 8-ply Canadian Maple shell is accentuated by a deeply figured, American Walnut outer ply for stunning look and feel.

African Bubinga

(LCEX6514TXBU)
6.5"x14"

More at home in a live setting, the harder nature of Bubinga wood is brought up a notch in tone with a thicker, 10-ply shell. Ideal for louder situations where more articulate play might otherwise be lost.
100th Anniversary Black Magic
A tribute workhorse for the performing musician, The 100th Anniversary Black Magic comes in 5"x14" and 6.5"x14" models. Stunning scroll and floral patterns are individually etched into the Black Nickel plating with a computer-controlled laser. Features include chrome die-cast hoops and tube lugs.
100th Anniversary Black Magic 5"x14" Model (#LW5514ANV)
100th Anniversary Black Magic 6.5"x14" Model (#LW6514ANV)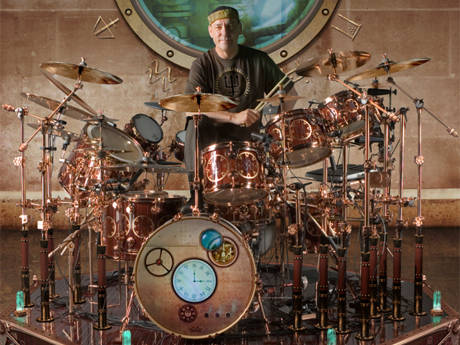 NEAL PEART OF RUSH CUSTOMIZED KIT. BUTCH TRUCKS OF THE ALLMAN BROTHERS BAND CLASSIC GRETSCH DRUMSET.
http://www.philbrodieband.com/muso_solos_drummmers_jazz_rock.htm TOP 100 DRUMMERS
*****
Sample Photo 4
*****
Brass die-cast hoops, brass tube lugs,
brass plated P86 Millenium strainer and butt plate.
Shown in Cherry Lacquer Stain.
| | |
| --- | --- |
| | |
| | LB402BBTWM |
brass
<<<>>>
>>>>>>>>>
LS403TD53WMB
African Waterfall Bubinga
LS403TD70WMB
Arctic Glitter
LS403TD65WM
Sapele Pomele
LS403TD60WM
Macassar Ebony
LS403TD50WMB
Birdseye Maple
*****
*****
*****
Sample Photo 5
Brief Description
Sample Photo 6
*****
AMERICAN FLAG PAINT MURALS
YOUR CUSTOM DREAM MURALS PAINT JOB AVAILABLE ALSO.
CORPORATE, ORGANIZATIONAL, FROM PHOTO, ETC.
SPIRIT OF 1776 FLAG CUSTOM ORIGINAL ARTIST
HAND PAINTED MURALS FROM BETSY ROSS'S RELATION,
VICTOR SCOTT ROSS MOORE.
AN ORIGINAL U.S.A. INDEPENDANCE AND LIBERTY
RENAISCENCE ARTIST LIKE FAMILY FRIEND BENJAMIN FRANKLIN
WHO TAMED THE TYRANTS AND LIGHTENING FROM THE SKIES.
Learn Moore, not Less. COMEDY SLOGANS TO SAVE THE WORLD BY

!!!
THE CURE TO EVERYTHING!!! From Betsy Ross's Great, Great+ Grandson.
Copyright Victor S.R. Moore 2002-2007
All Rights Reserved.
Victor S.R. Moore is a "Renaissance Artist"

Producer/ Director,
Artist/ Technician, Comic/ Musician, Inventor/ Architect, Health Researcher.
Like Spirit of 1776 Revolutionary Benjamin Franklin &
Leonardo da Vinci.
EMAIL: ComicCD@yahoo.com
"Artistic V.M. Productions & Transfer"

"Anything you can see or hear I can produce from scratch, or transfer; darn near!" "Million Dollar Award Winning Quality for Affordable Prices!" Motion Picture Film, Video, Still Photo, Animation, Special FX, Special event & Special FX lighting, Sound, Music, Comedy, Fine Art, Illustration, Graphic Design, Surround Sound Theatre building, Film, Video, Audio, Home or Commercial, etc. etc. Vinyl Records, Cassette tapes, 8-track tapes, 1/4" reel to reel tapes to C.D. etc. For inquiries email: ComicCD@yahoo.com
Production Lessons Available: Film, TV, Video, Photo, Audio, Animation, Special Effects, Music.
Drumset Lessons.
http://franklinlightningrod.wordpress.com/category/uncategorized/
http://www.websters-online-dictionary.org/definitions/Benjamin+Franklin
http://www2.fi.edu
http://www.ubiquitinconference.com/conferences-travel.php?id=18

The Franklin Institute

The Franklin Institute houses a variety of scientific innovations and offers in-depth views of everything ranging from mummy forensics to Ben Franklin's lighting rod. The museum's Fels Planetarium is the nation's second-oldest planetarium. Ongoing exhibits include a larger-than-life walkthrough model of the human heart, and an interactive replica of a jet airplane cockpit.
http://www2.fi.edu/exhibits/permanent/franklin_national_memorial.php
THE BENJAMIN FRANKLIN NATIONAL MEMORIAL
And the Frankliniana Collection at The Franklin Institute
WORLDS LARGEST DRUM KIT
*****

zildjian, paiste, istanbul, turkish, bosphorus, crash, hats, high, hi, hi-hat, china, trash, 14, 16, 19, 20, 22, drum, snare, tom, bass, kick, head, hardware, stand, kit, set, pearl, tama, ludwig, gretsch, slingerland, dw, roland, remo, evans, studio, mic, monitor, mixer, board, simbal, simbol, symbal, symbol, cimbal, cymbol, cimbol, cymbel, ddrum, piccolo, spaun, aquarian,


Snare, snares, drum, drums, kit, cymbal, cymbals, hardware, head, heads, set, case, cases, Zildjian, Sabian
Tama, Pearl, DW, Sonor, Ludwig, Yamaha, Gretsch, PDP, Mapex, ddrum, custom, Pork Pie, Paiste, Meinl


tags: drum,drums,drumset,drum set,DW,Pearl,Tama,Gretsch,Mapex,Craviatto,SLingerland,Ludwig,OCDP,

Dave Weckl

sabian, bosphorus, K, custom, dry, dark, light, signature, AA, meinl, pearl, tama, gretsch, ludwig, slingerland, dw, snare, drum, kit, bass, hardware, pork pie, yamaha, cimbal, cymbol, symbol, simbal, symbal, simbol, cimbol

Drums,Sabian,zildjian,ride,china,cymbal,paiste,ludwig,gretsch,dw,stand,boom,ride,crash,splash,hi hat

Comparable to High-End and Custom Drums by DW, Pearl, Ludwig, PDP, Slingerland, Yamaha, Rodgers, Gretsch, Zildjian, Sabian, Paiste, Gibraltar, and Mapex

Tama Drum Set, Tama Drum, Tama Drums, Tama Drum kit, Tama Drumset, Tama Drumkit, Ludwig drum, Slingerland drum, Yamaha drum, Pearl drum, Gretsch drum, Premier drum

Pearl, Ludwig, Kit, Traps, DW, PDP, Pacific, Gibralter, Yamaha, Studio, Custom, Pork pie, Fusion, Jazz, Funk, Rock, Remo, Tama, LP, Bass Drum, Tom Tom, Snare, symbal, zildjin, sabien, paiste,
*****
Free
BOOK SALE
WORLDS FOURTH LARGEST CLASSIC DRUMS COLLECTION
EMAIL: ComicCD@yahoo.com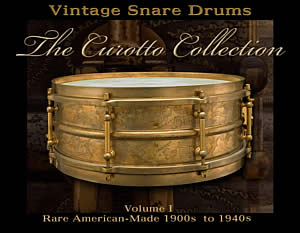 The Curotto Collection, as of this Volume I printing consists of 425 + vintage snare drums. Due to this extensive collection the decision was made to publish a Volume I and for the future, a Volume II. Volume I is a presentation of gold plated & engraved, silver plated & engraved and black nickel & engraved snare drums with the addition of a "Future Collectable" section. Volume II will contain all of the "wrapped/pyralin" snare drums in rare and fancy finishes such as Peacock Pearl, Rose Pearl, Marble Pearl, Rainbow Pearl, Butterscotch Pearl, Abalone Pearl, Black, Red and Green Onyx, Green Pearl, Lavender Pearl plus many more rare and fancy finishes from the 1900s to the 1950s.
©The Curotto Collection 2007
All Rights Reserved